The Bricklayers Arms
Hogpits Bottom
HP3 0PH
Tel: 01442 833322
Email: goodfood@bricklayersarms.com
Yesterday we visited The Bricklayers Arms in Flaunden. For us, a good place to stop when doing the Chess Valley Walk is Latimer. It is about one and a half hours walk from central Chesham. The only problem is that Latimer doesn't have any pubs. The last time we ended up there, we asked around and were pointed to The Sugarloaf Inn in Little Chalfont. We weren't impressed. It's a shame, then, that we didn't walk in the other direction towards Flaunden. We may have come across The Bricklayers Arms.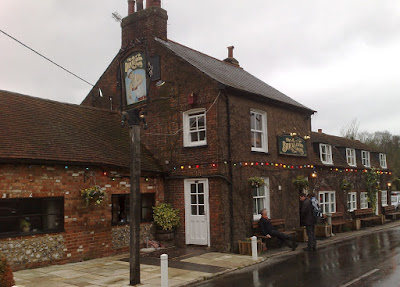 This wonderful pub has won a host of awards, which they are not shy in stating in their pamphlet on the bar, the trophies behind the bar, and on their website. And rightly so, I say.
First of all a comment on the drinks. There were your standard lagers, and Guinness. The cider on tap was Scrumpy Jack, which is unfortunate. When out on a Sunday jaunt, I usually have a cider. I am a fan of Harvest Dry which I first sampled in The Rose and Crown, Hawridge. If they had this cider on tap, I would have gone a bit nuts, I think.
There were standard ales on hand-pump (London Pride), and one offering from the Tring Brewery called Royal Poacher. I am becoming quite a fan of this brewery and consider it a mark of quality to see the brewery's products on sale in a pub. I tried the Royal Poacher and it blew my mind. As a bitter goes, this is one of the top. It had so much depth to it; it continued to hit me with flavour long after my sip had gone down. I do recall a quite strong citrus flavouring, which gave quite a fresh aftertaste.
The food was superb. We were actually very lucky as we walked in without a booking, and were able to sit at one of their bar-area tables and eat. I get the idea that if you want to sample the food here, book. So, back to the food. On Sunday's they only do a roast menu. This was by no means an offering of four dishes and a random pudding. No. It was a fully featured menu with superb looking starters, mains, and desserts. Mrs-Mouse-To-Be had the chicken, I had the pork, and Mr. O (our luncheon companion) opted for the vegetable and basil soup. All  three of the dishes were cooked to perfection. I think I won with my pork dish. It was heavenly. The vegetables were fresh enough to have a bite to them, the Yorkshire pudding was crisp, and the potatoes were roasted and not deep fried.
Due  to time issues we weren't able to sample any of the desserts, but they did look good and we will be back to try them.
Overall, this is a well run, well cared for pub which seems to be at the top of their game. The Sunday roasts were excellent, and the service was very good. I would suggest getting there early as the place fills up very quickly, and to the brim.