The Hole In The Wall
5 Mepham St.
London
SE1 8SQ
Phone: 0207 928 6196
Last night I met up with a friend in the Hole in the Wall pub next to London Waterloo station. It wasn't my first time there, nor will it be my last. I quite like the HITW. It is just obscure enough to never be overly full. If there aren't any seats, there is usually ample standing room for you not to get jostled too much.
The pub is situated in an arch beneath what I believe to be the one of the main routes used by trains to enter Waterloo station. Every few minutes there is a rumbling throughout the pub which is not due to the food.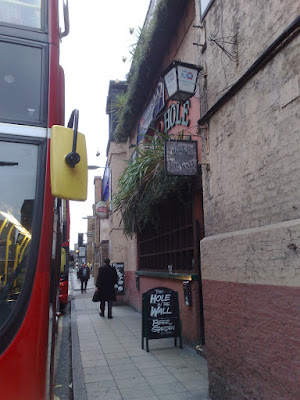 The food is very simple fare, chips, burgers, baguettes. This is never going to be a gastro pub, but it fills a gap.
The pub does have a rather large selection of beers on tap. There are five ale hand pumps, but I did not get to see. They also do Leffe Blonde on tap, which is one of my favourite beers. I was rather disappointed to see that they no longer serve Peetermans (of the Stella stables). It is a great tasting lager, which I try to drink whenever I can.  Other beers on tap include Hoegaarden, and Becks Vier, the latter of which I have never really been impressed with. Tastes like someone has watered down a normal Becks.
The staff are quite attentive. I was there during a football match night, and it never got deeper than three at the bar, which was during half time. Whenever I ordered, I barely had time to look around (hence missing what ales/bitters they served).
Overall, a good pub to go to for a nifty-swifty before your train, or for a full on meet up.