Everyman Bistro and Bars
5-9 Hope Street
Liverpool
L1 9BH
Phone: 0151 709 0249
Tucked away below the Everyman Theatre on Hope Street in Liverpool is the Everyman Bistro.  This is the place to go if you want an excellent atmosphere, great food, and be able to chat amongst yourselves until the wee hours.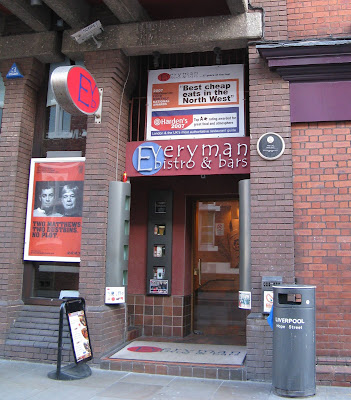 First of all, the beers. They have the general Becks Vier, and Stella on tap, but they also have two guest beers on tap at any time. When I went there last weekend it was De Koninck, and Maredsous Blonde.  De Koninck is one of my favourite beers and I will have at least two "Bollekke" whenever I see it on tap. Maredsous is a beer I had never tried before. Apparently this very drinkable Belgian beer is from the Duvel stable. The flavour is that of a slightly richer Leffe Blonde, but not as heavy as Leffe Bruin. If I see it again on tap, I will definitely have to sample it more extensively.
The food at the Everyman is excellent. Everything is made to a very high standard, and the portions are of a decent size. Their soups come particularly highly recommended as a decent lunch, or even mid-evening snack.
Like the food, the service is excellent. The staff are attentive and polite. Even at its busiest I have never had to wait long to be served at either the bar or food counter.
I think that if you live in Liverpool, or are just visiting, the Everyman Bistro is a place to go if you would like some good food and drink in a clean and welcoming atmosphere. You may also see the odd celebrity there!